It's time to figure out for yourself what is out of fashion and absolutely fashionable as bathroom trends 2022. We have collected the expert opinion on how bathroom designs 2022 should look like.
Unquestionably, bathrooms are vulnerable to fashion trends. In this case, you should consider new items more thoroughly. And the reason is that repairs need considerably more time and budget.

A bathroom is a place designed not only to cleanse the human body but also to restore spiritual harmony and tranquility. You want to come here after a hard day, here it is important to cheer up in the morning.
To do this, you need to competently think over the design of the room. You have started a renovation in the bathroom and do not know in what style to arrange it? We will help you get acquainted with the current trends in our material.
Here, we will discuss what finishes, furniture, sanitary fixtures, and color palette to opt for bathroom ideas 2022.

Bathroom Design Trends 2022
A bathroom in the modern sense is a combined room where a bath, a toilet, and other sanitary ware and equipment items are installed. The combined bathroom gives a wide space not only for design solutions but also a sufficient area for their implementation.
If in your apartment the bathroom and toilet are separated by a partition, you can dismantle it, if the integrity of the building's supporting structures is preserved.
Don't miss our articles on:
The time spent in this case will pay off in the stunning interior of your bathroom.
When choosing a bathroom design, you need to familiarize yourself with all modern style trends. This will help you see the most successful layouts, plumbing, and furniture placement, and decide on color schemes. A great option is to view ready-made bathroom projects in various interior styles.

Lighting in Bathroom Designs 2022
Modern lighting is an essential functional and decorative component in the bathroom design.
Following the rules, several light schemes can be applied.
You can go for general lighting, in the forms of built-in spotlights, or sconces in the washing area. Mirrors with illumination around the frame look stylish.

Undoubtedly, the lighting design of the ceiling and other objects in the room are of great importance. Glossy ones intensify the light; matte ones need more saturated lighting.
Spotlights
In bathroom designs 2022, it is acceptable to go through several lighting scenarios. The lightest area should be near the mirror. Spotlights can be placed on the ceiling, and a wall lamp can be hung near the bathtub. This is for increasing the lighting for hygiene procedures.
Built-In Backlight
New technologies give rise to new innovative options for lighting. Thanks to constant progress, you can find integrated lighting in bathrooms almost everywhere. Possible variants are furniture, mirrors, bathtubs, showers, and cubicles.
It allows not only to make the space brighter, but also to give it visual lightness, to emphasize the architectural merits, to create the right environment and mood, and much more.

Bathroom Trends 2022: Furniture
Furniture should have straight geometric lines, but with rounded corners. Sideboards, shelves, and plumbing fit seamlessly into the interior, leaving enough free space.
The decoration of the walls, floors, and ceiling is light and soft. The shades are as close to natural as possible, the addition of gilded details and floral patterns is allowed.
The presence of a window is a big plus of such a bathroom.

Natural lighting combined with light shades of the interior visually enlarges the space and makes it light. The window can be replaced with a large mirror in a massive frame. The lighting is abundant.
The presence of a bath, and a shower, and a toilet, as well as two sinks in one room, is acceptable.
Moreover, it will be great to use decor in the form of textiles, candles, rugs, classic chandeliers, and sconces.

Bathroom Ideas 2022: Sanitary Ware
The sanitary ware is equipped with the most modern technologies – a wall-hung toilet with lighting, a faucet with a touch sensor, a multifunctional shower cubicle.
It will be great to use built-in speakers with relaxing sounds or music, temperature sensors, automatic air fresheners as auxiliary equipment. The furniture is minimalistic, with strict geometric shapes.
The neon lighting behind the plumbing fixtures or underneath it will perfectly fit into a modern bathroom to create the effect of floating objects.
The colors are restrained, not bright, but at the same time catchy. Combinations of different shades of black and white create a monochrome effect without making the bathroom look monotonous.

You can use smooth glossy countertops, metal faucets, and holders, glass elements. A possible way to hides the decor in the design of the bathroom is in functional details.
For instance, you can opt for chrome-plated towel holders, unusual lighting, a glass block partition.
Cold and technological interior can be diluted with a green plant or a delicate flower in a vase.
At first glance, such a bathroom interior requires considerable financial costs. But if you adhere to the basic criteria for finishing, you can achieve an excellent style.

Black Bath
Black in the bathroom? Yes, and yes again! Especially when it comes to a freestanding bath.
A bath like this will add a little drama and chic to the bathroom interior. Combined with the right fittings and fixtures, you can achieve an impressive effect.

Special Wallpapers as Bathroom Trends 2022
From the point of view of creative designers, one of the biggest bathroom trends 2022 is the use of wallpaper. But, there are some nuances to consider.
Firstly, wallpaper can cover an accent wall and create a thrilling attraction. Secondly, they can take up the whole bathroom with a dream of fabric, color, and style.
Nowadays, it is possible to find bathroom wallpapers in a variety of imaginable designs, hues, and styles. Their technical properties, in general, have ideal quality. Even constant wetting them with water, under the shower, cannot damage this wall covering.
You can also purchase special bathroom wallpapers. For instance, waterproof nonwovens and vinyl. In addition, this trend is surely a very creative alternative to tiles.

Marble Wallpaper
Picturesque marble stains in the interior of the bathroom are not new.
But try to move away from stereotypes like tiles and porcelain stoneware and use wallpaper. Marbled wallpaper in small bathrooms looks so gorgeous.
They create a wow effect and help create a glamorous yet modern interior.
Bathroom Decor 2022: Frame Mirrors
Naked bathroom mirrors are already a thing of the past. Today, you can add a special chic to the mirrors with a beautiful frame. There are a great number of variants to choose from.

Either classic or modern, such a mirror will immediately become the main element of your bathroom decor 2022.
Bathroom Trends 2022: Finishes
Marble
If you choose marble, then go for the unusual ones.
Designers affirm that bold, bright, anything can fit except standard white. Try to avoid the usual Carrara and Calcutta and run the risk of using unique varieties like Zebrino, Arabascato, and Paonazzato, which look like works of art if done correctly.

Onyx and Travertine
As the popularity of warm colors in bathroom design grows, white marble gradually fades, giving way to cozy natural stones, such as travertine and onyx.
In your bathroom, you can complement the travertine floor with elegant textiles. After all, these rocks replace the sterile white marble bathrooms.

Trending Styles as Bathroom Trends 2022
Scandinavian style bathroom
A bathroom design in the authentic Scandinavian style is the best solution for lovers of minimalism and naturalness. This interior style has been relevant for several years in a row, and this trend will continue for the coming years.
The main color here is white, other light shades are added to it. Contrasts between wall decoration, bathroom fixtures, and furniture colors should be kept to a minimum. Monochrome looks great in small bathrooms.
The presence of natural materials or their imitations works perfectly here. The modern solution in this case is wood-like floor tiles. It can smoothly transition from the floor to the walls, creating an integral perception of the interior.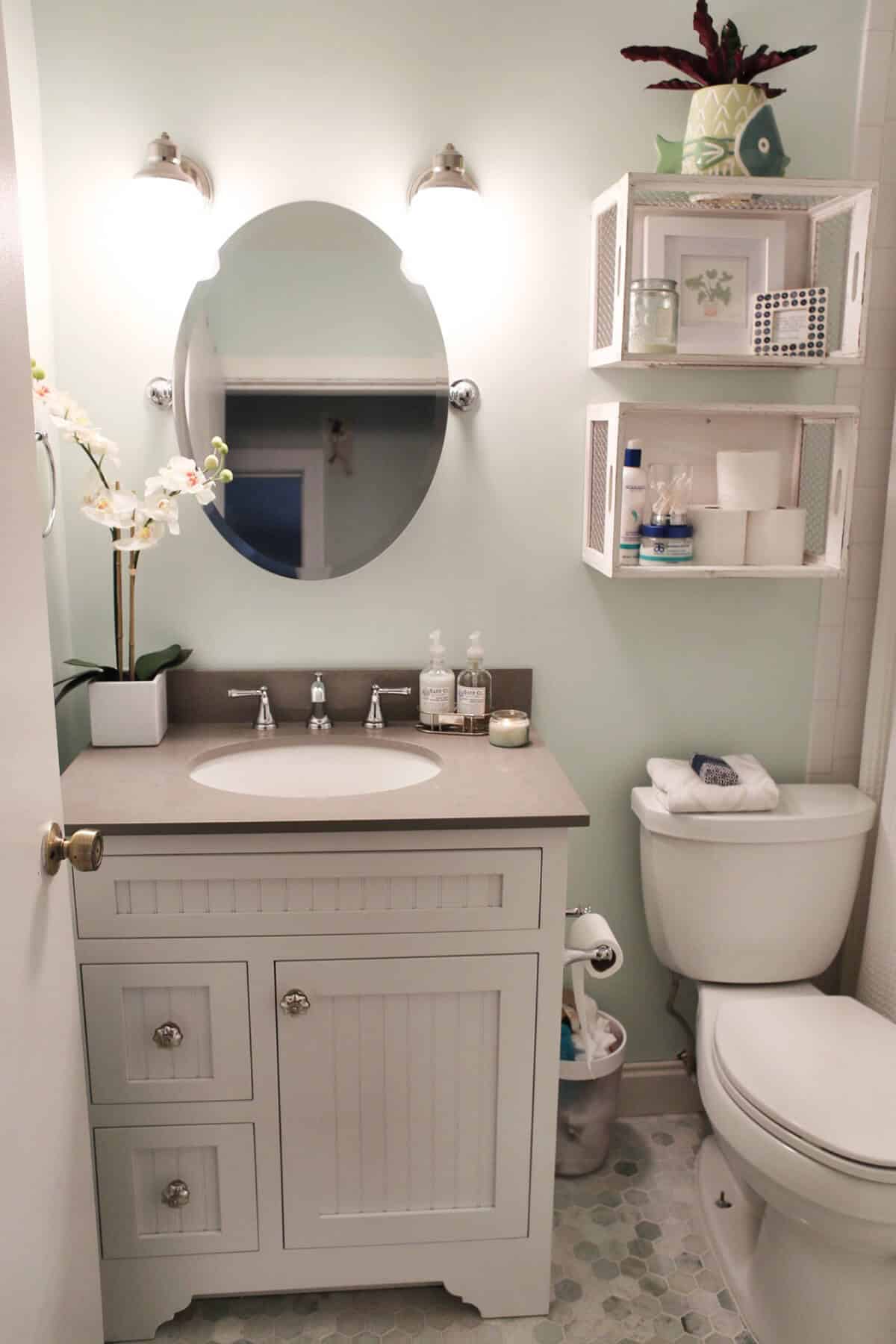 Modern loft bathroom
Conservatism and loft are not compatible concepts. Bathroom design in this style should be as industrial and cutting-edge as possible. At the same time, it is not necessary to follow the concept of loft space literally.
You can use a number of distinctive features of the style, without violating the coziness of the living space.

Add concrete and rough textures to the surfaces of walls and ceilings. Tiles with imitation of a concrete coating will perfectly cope with this task. Create a combination of modern sanitary ware with retro details.
Accentuate the technical aspects of the room, leave pipes visible. To make the bathroom interior more decorative, you can place a heated towel rail in the form of a bronze pipe.
The characteristic feature of loft-style bathroom design is the use of unusual decor. It could be graffiti, pictures in frames with futuristic images, a birdcage for storing cosmetics, or even an old chest. This style must necessarily reflect the character of the owner of the premises, his creativity.