Our small kitchen ideas 2024 provide you with a number of smart ways to make a tiny kitchen visually more spacious.
If you have small cooking area, it doesn't mean that you cannot get the most out of it.
Even though small kitchen decorating may seem challenging, there are various variants for space-saving and functionality ideas.
Of course, the feeling of coziness, modern style and the use of high tech devices will give extra efficiency and multi-functionality to your small kitchen design 2024.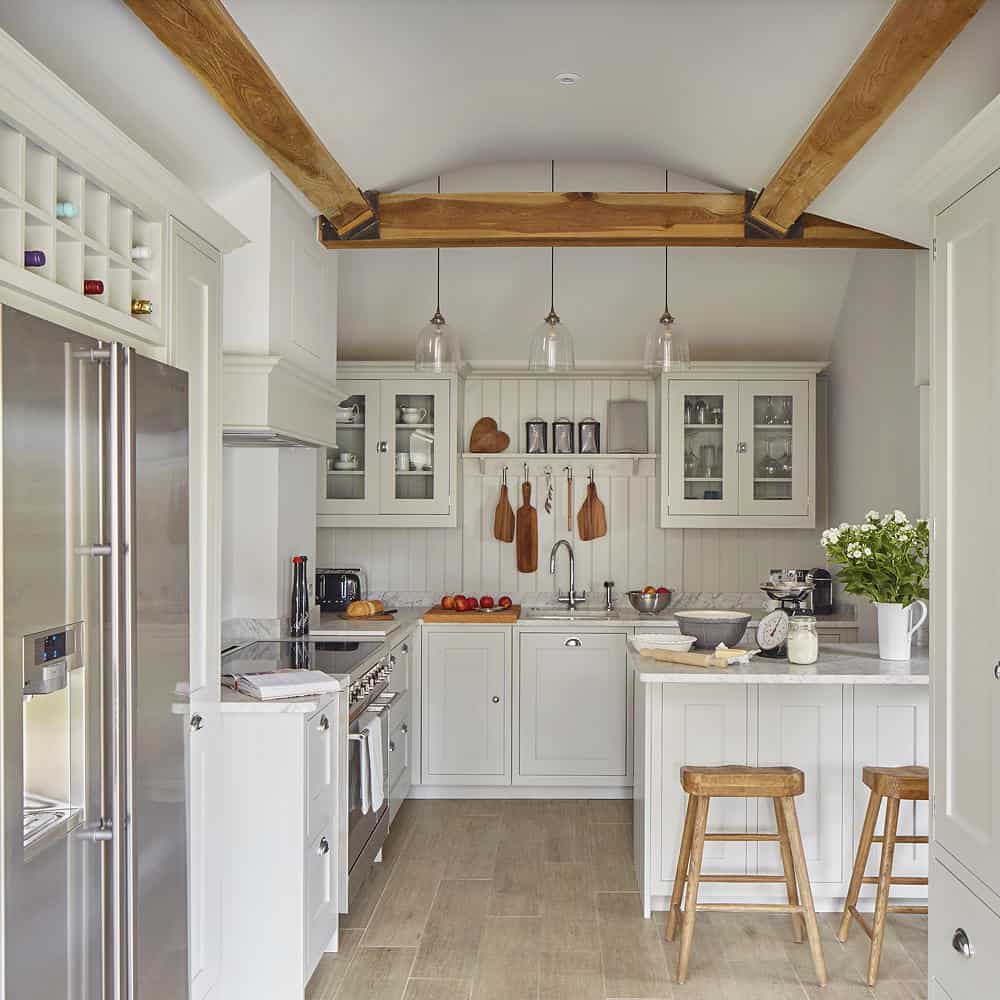 The special and unmatched design and decorating ideas for small kitchen reflect the strong inclination to be outstanding.
Paying special attention to every detail, such as materials, textures and colors will help to create an exclusive design making a small kitchen a real masterpiece.
Let's get ingenuity from the latest trends for small kitchens that are proper for any taste.
Small Kitchen 2024 Smart Storage Ideas
Genius storage organization is one of the most essential components in a small kitchen.
By means of reconsideration of the used space, you will be able to make a tiny space feel more ample.
Brainy storage solutions can include applying additional shelves or drawers and using any possible space as extra storage.

Considering the way you use your kitchen, decide on the type of storage you really need to go for. Now, you may think: How? Here are some tips:
Tip 1: Make sure the items that are used every day are easy-to-reach.
Tip 2: Be creative! Instead of ordinary shelves, invest wire panel shelving.
Tip 3: Waste no space! Turn corners into a clever storage.
Tip 4: Use compact containers, organizers and baskets.
Shelves for Small Kitchen Design 2024
Shelves are considerably beneficial components for small kitchen designs. They help to store numerous items in a small space. In contrast to drawers, shelves have no doors, so you have everything within reach.
Don't miss our articles on:
The use of shelves enlarges the feeling of space in the kitchen, allowing storing items on the walls.
You can use the higher parts of the walls, closer to the ceiling, in order to allocate the little space of our small kitchen in clever ways.
You can easily apply the fixing option to hang pans, pots, and other kitchen stuff directly on the wall, or use fixed bars and hangers to have them at hand.

Small Kitchen Trends 2024 for Sink and Dish Dryer
It can be hard to find space for a big dishwasher in a small kitchen.
So, consider applying a double sink, one for washing and the other for dirty dishes. This will help to keep the filthy dishes out of sight, without messing up the work surface.
Apart from applying double sink option, combine it with an over-the-sink dish dryer rack.
This fine concept will hold the washed dishes without occupying additional space on the counter.

Kitchen Design 2024 Trends: The Furniture
The furniture for small kitchen must be chosen thoroughly, taking into account the right and functional distribution of it.
High Cabinets
For small kitchens it is essential to choose vertical cabinets, preferably floor-to-ceiling. By applying them you will win a lot of space and comfort.
The planning should be done carefully to assure the necessary open space. It will be better to store eventually used items in the highest parts of the cupboards.

On the whole, cabinets, drawers and shelves should be used to make the most of the space as small kitchen ideas 2024.
Take into account every inch and corner for cabinet decorating in order to achieve the most practical design.
Kitchen Table
Before deciding on what type of kitchen table to choose, observe all the variants very attentively.
There are several options of kitchen tables for small kitchens, to consider.
One of the best solutions can be folding tables. They are very practical as you can keep them closed and open except when using them.

The next useful model includes tables with their own storage space allowing to store napkins, cloths, and other stuff.
One more option is a small kitchen island, which can serve as a work and storage space concomitantly.
Transparent Chairs
From the wide range of kitchen chair styles, the high chairs in transparent materials are absolutely voguish and trendy now. They are super appropriate as they don't take up much space, thus keeping the kitchen outline.
They are beneficial for the light of the kitchen, adding it a modern twist.
One more advantage for these chairs is that they are easily cleaned and much cheaper than those of metal or wood. When you think about renewing your kitchen, you should surely consider this variant.

Lighting
Lighting is one of the most prominent factors for best kitchen design 2024. Properly selected lighting will make your kitchen an enjoyable place to work in.
Certainly, it will be perfect to have natural lighting, which will provide us with a magnificent sense of spaciousness.
The space near the window can serve as an ideal option for placing a table.
Moreover, you can alternatively use this space for arranging some shelves and putting there your plants for beautiful decoration.
Both in the presence and absence of natural lighting, it is important to choose the areas for artificial lighting wisely. Special attention should be drawn to the working areas. The lighting should illuminate the whole kitchen making it a pleasant and relaxing room.
Small Kitchen Ideas 2024: Trending Colors
The colors and textures you choose for a small kitchen can make it light and airy.
A solution with neutral color layout can include beige, creamy or white shades.
Matched with pattern tiles and marble counter-tops, they will spring back the light, giving the kitchen a feeling of spaciousness.

Both lighting and color are equally important for spaciousness and harmony of your kitchen. That's why, when talking about colors, the furniture, electrical appliances, walls and floor should be considered together.
White kitchen
When choosing a color for a small room, whether it is kitchen or another room, take into account that a light color will a sense of larger space.
This does not mean that you have to apply light shades in an entire room.
As small kitchen ideas 2024 you can combine white darker tone elements or accentuating materials that will not break the feeling of spaciousness. The strong colors can be applied on appliances or some decorative units.
This will add extra stylishness to the room.

Kitchen in pastel shades
One of the most trending colors for small are pastel shades combined with lighter tones in white or beige. There are inspiring designs in pastel green and orange combined with white.
Orange elements are also good for the kitchen as this shade can make you feel hungrier. Moreover, it encourages interesting talks.
Wallpapers and Wood Components as Modern Kitchen Design 2024
Even if you prefer wood elements and wooden furniture in your kitchen design, try not to overuse them for a small kitchen.
They tend to give more coziness and comfort to the kitchen, but if you misapply it, your kitchen may seem smaller.
A great solution, in this case, can be choosing minimal elements in wood tones that is practical and realistic. Another way to give personality to a small kitchen is featuring a neutral wallpaper design framing the island.
This provides a designer touch at the same time keeping it open, fresh, and vivid.
Small Kitchen Trends 2024 for Decoration
As we have already introduced, there are plenty of small kitchen ideas 2024 to turn it into an ultra-functional and graceful place.
Here are some more tricks aiming to make your kitchen more extensive.
They include some of the most advanced trends of small kitchen decoration.
Flooring
Modern tiles add beauteous outlines to kitchen floor decoration. Mosaic and oversize tile designs are comprehensive flooring ideas which go perfectly with a lot of interior design styles.
They are practical and long-lasting, feasible for busy homes.
Moroccan geometric tiles are great for flooring design and also as an impressive wall decoration.
These tiles are produced from durable materials offering magnificent solutions for functional and modern kitchens.

You should opt for bold tiling for a small kitchen. Bold patterns for the floor create the illusion of a larger room.
The Ceiling
For small kitchens high ceilings can be ideal for increasing the feeling of space.
So, it is important not to ignore it and take advantage of that to extend the sense of spaciousness and add a touch of stylishness to the entire look.
A possible variant to make the most of this small space can be creating long right-angled windows for extra light entering into your kitchen. Another option is creating compelling textures with various color tiles, wood, or wallpaper.

Mirrors
A great alternative for kitchens that do not have windows is installing a mirror.
By the help of reflecting the light, it allows to make the space feel brighter. In general, mirrors are used greatly for nearly all kinds of rooms giving the feeling of spaciousness and light.

Applying mirrors in the kitchen is rather a recent trend. In fact, previously they were thought to be inappropriate in virtue of the use of this room.
But this idea with the application of non-stick mirrors on the cabinets has taken a radical turn becoming very popular in recent times.