Christmas decorations 2020 should fully reflect your individuality. Expensive stuff looks good, but not always fully satisfies originality need. In addition, DIY Xmas decorations help to express love to your family; can unite you all in common fun work.
We prepared Christmas design ideas for all: from the easiest ones for children and beginners to little harder for art workers.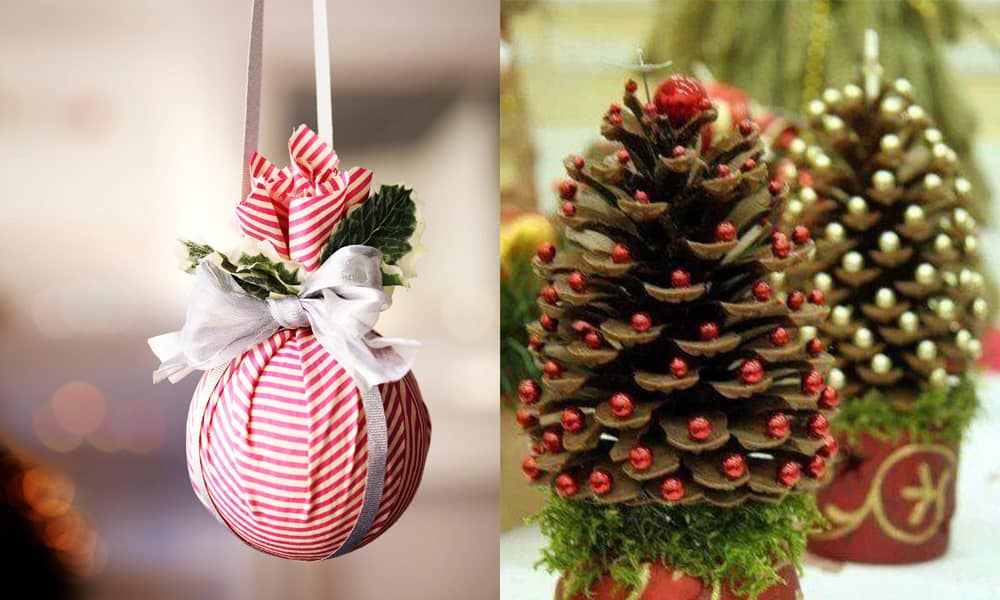 Gather your whole family to read our «Christmas decorations 2020: DIY Xmas decorations» article.
Christmas decorations 2020: LEGO madness!
First, we'll publish Christmas decorations 2020 ideas for our dear children. Some will require parents help – be one team!
LEGO decor came extra trendy, even developing to full interior style!
Don't miss our articles about:
Children and grownups can easily make such crafts, having much fun! You'll just need additional details for hanging toys.

LEGO snowball

Ask your children to prepare toy they like. Than make one of most joyful DIY Xmas decorations!
You'll need:
Glass jar with lid
Super glue
Lego figures and details;
Sealant;
Sequins;
Glycerol;
Glue LEGO
Glue LEGO figures to glass jar lid. Use super glue.
Add water and glycerol into glass jar in relation of 2/3 to 1/3.
More glycerol – more slow snow movement.
Add sequins.
Apply sealant on glass jar edges; close it by lid with glued LEGO figure.
Shake and enjoy!
DIY Xmas decorations: Magic Christmas tree
Efficient Christmas decorations 2020 can be prepared by needlewomen or with easy string art. It could be not only figures on wire carcass, but unique Christmas ball toys also.
Repeat instructions for DIY lampshades from here. Just take smaller spherical balloons for basic, live free thread for hanging knot and cover balloon fully.

Add LED lights, if desired.
Be sure, your guests should be wondered by that stylish Christmas design ideas and ask teaching them!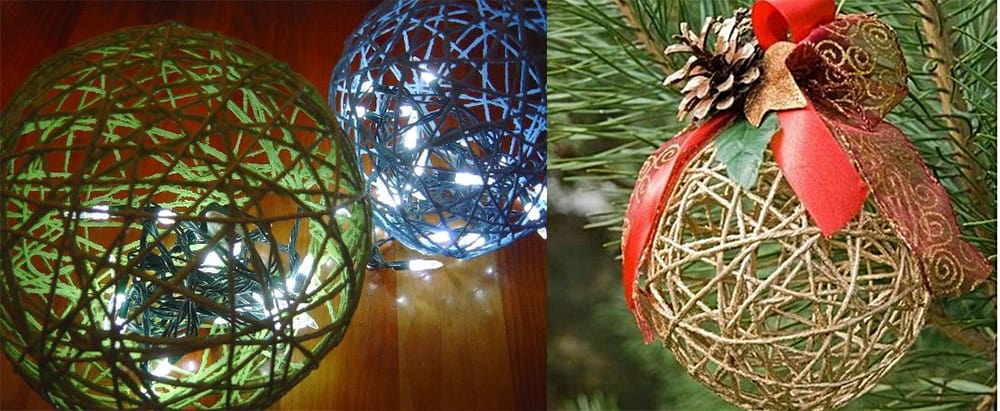 Snowing Christmas tree
One of coolest Christmas design ideas you've seen at shops should be real to make by yourself. It's harder to get, but result admires and saves lot of money!
Prepare that stuff:
Plastic bottle
Tube with diameter near 1 cm, height – 30-40cm
Small foam plastic beads
Foam plastic parts
PC cooler (12 V)
Power Supply (12V).
Glue gun
Make funnel from bottle by cooler size.
Make hole in funnel's side part equal to tube diameter.
Join details tube and funnel by glue gun.
Apply artificial branches to tube, forming tree.
Join funnel to cooler.

Make opened box for granules. Glue foam plastic parts to one another.
Glue funnel to box bottom at center. Make and glue small stand under bottle's cap.

Add small partition from cooler's side, like it shown on image. Without that granules won't go to tube, but blow out.

Join PC cooler to Power Supply (never do this by yourself, if you don't have special knowledge!).
Fill box with plastic foam granules.
Turn on and enjoy your Christmas tree with snowfall!

Caution: avoid it's usage, if there are small children or animals at home.
Hopefully, our «Christmas decorations 2020: DIY Xmas decorations» article will make your Christmas unforgettably beautiful!