Airy adorable Shabby chic bathroom really made for soul rest! Let's get acquainted with style's history. Designer Rachel Ashwell used antique, Rococo, Baroque items and hand-made magic for her own interior creation. That unique style made people admired. Soon her Shabby chic style became famous all over the world.
What's the meaning? "Shabby" – charming negligence, scrapes, cracks left by time (really or artificial). "Chic" – expensive, valuable items, despite their age, combinations' refinement. Sounds good for bathroom interior design! Shabby chic gives great bathroom decor ideas for hand-makers also.
Let's discuss that charming interior magic process in our «Bathroom decor ideas: Dreamy Shabby chic bathroom for your home» article.
Shabby chic bathroom: Atmospheric furniture
Furniture is Shabby chic bathroom heart! Choose it attentively, making combinations for refined bathroom decor ideas.
Ultramodern bathtubs with LED lighting look absurdly here. Choose simple models or Vintage ones on figure legs. Abrasions aren't required, but if you like them – leave them or make effect by yourself. We'll describe techniques in next articles.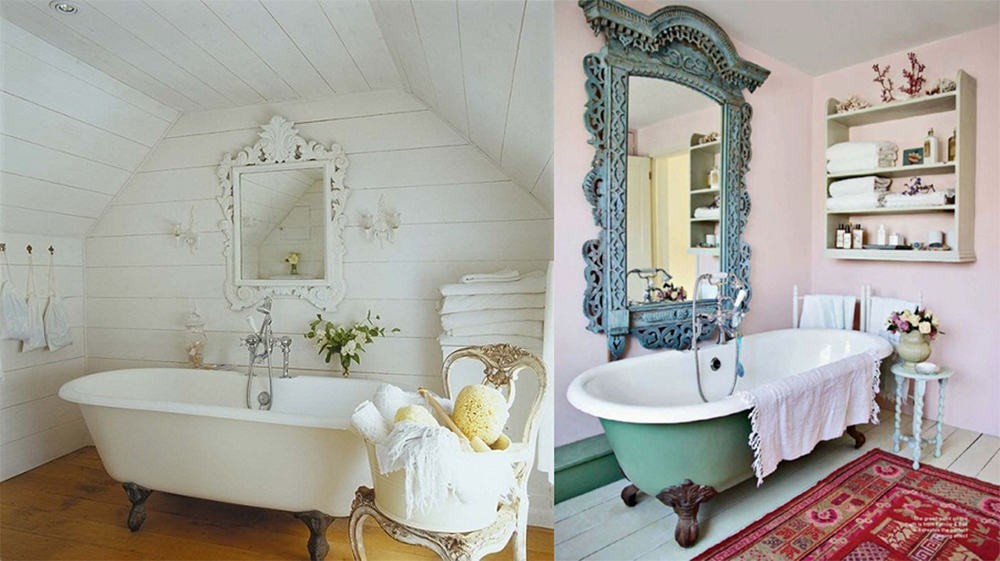 Your bathroom interior design should be extraordinarily cozy and convenient! So, find cute antique or vintage items for it: chair near bathtub, serving table on wheels.
Toilet can be just simply white. You may use one with unusual shaped tank also.
Shabby chic bathroom interior design often catches eye with Rococo pedestal sinks.
Bring here soft armchair, if space allows it.
Don't forget about refined cabinet.
You can decorate any furniture item with decoupage technique.
Bathroom decor ideas: Finishing and accessories for Shabby chic
Such Shabby chic bathroom furniture needs special entourage! Finishing is usually simple, without brutality. Sometimes they're artificially aged. Wallpapers with tender flower patterns and moldings meet often.
Accessories and patterns take important place in Shabby chic style, as it popularized decoupage.
Use flower, music sheets, angel patterns and shapes. Combine them!
Enrich bathroom decor ideas with tender expensive textiles and laces abomination.
Forged paper and towel holders finish composition.
Style considered being womanish one. It's mostly true: gentle pastel or «powdered» bright colors often appear in such bathroom interior design, making it so tender. But we should disregard that stereotype! More cracked and shabby surfaces make interior look brutal. Antique details give out real esthete. Shabby chic bathroom can be masculine!
Hopefully, our «Bathroom decor ideas: Dreamy Shabby chic bathroom for your home» article helped you creating Paradise corner for everyone!